YOURURL.com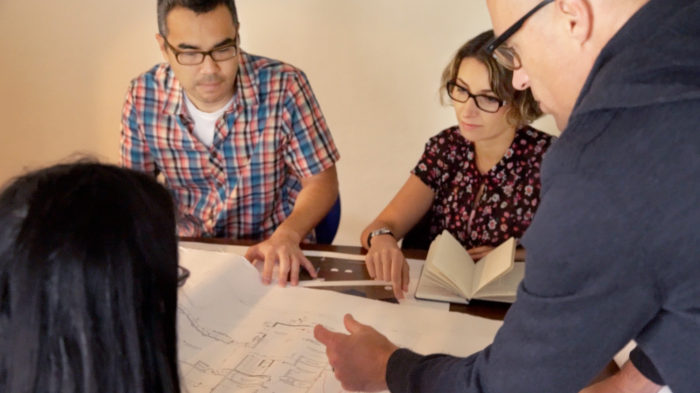 "…the role of the architect, or the designer, is that of a very good, thoughtful host, all of whose energy goes into trying to anticipate the needs of his guests…"  —Charles Eames
At their best, architecture, design, renovations, and remodels are truly collaborative efforts, and ones that leave everyone involved with a deep sense of fulfillment and camaraderie for having co-created the project together.
At their worst, however, these same architecture and design projects can be outright traumatizing, a quagmire of confusion, entrenched egos, missed opportunities, hurt feelings, and wasted time, money, and resources.
What, then, is the single most important factor in determining the outcome of a project, the factor that leaves you, the client feeling either fulfilled or flustered?
From the Transactional to the Transformative
Though architecture, design, and building can easily be misconstrued as primarily material pursuits, at their heart, they are about improving the lives of the people involved.
And in order to ensure that this is the case, it is not just the final form and function of the structure that's important, but the quality of the interactions along the way as well as the way.
At the center of everything, then, the most important element is the strength of the relationship between the client and designer, and the way the designer builds that relationship from at the outset and actively cultivates it throughout the project.
Taking famed designer and creative, Charles Eames, quote from above to the next level, not only is it the responsibility of the designer to be a "thoughtful host" who "anticipates the needs of his guests", a great designer invests time getting to know the client, asking them question so as to experience the client's life and their hopes and aspirations from the inside out.
In this way, a great designer is less like a mindreader but more like a midwife, assisting in birthing a project  that is longing to see the light of day.
The Client as Master Adviser
Though the architect or designer may bring valuable experience and insights to the table, the real heroes at the center of each project are the clients.  It is the client who has the insight and inspiration to begin a project. It is the client who reaches out to the building professionals in hopes of gaining sound advice.  And it is the client who, most often, courageously moves forward with little or no understanding of the design and building process, relying on the good will and trust of all the parties involved.
Opening their home or business to the ideas and opinions of others, it is the client who is both the expert of their own lives and the most vulnerable to the situation.  They are the ones who have to buckle down, and temporarily destroy part of their home or business in order to rework the space.
With all that the client risks, wouldn't it be important up front that the designer take time to get to know them, to get to know them in a way that insures that the designer experiences the project through their eyes, instead of imposing their design ideas onto to them?
Again, a healthy designer-client relationship based on mutually respect, honesty, curiosity, and gratitude can skillfully navigate almost any challenge.
The opposite is also true, an ill-formed or unhealthy client-designer relationship may lead to blame, contempt, deception, and one that can take the smallest of challenges and inflate them into seemingly insurmountable obstacles.
How to Find the Right Designer for You
In looking for a designer, there are three basic steps
Gather a list of list of potential designers
Schedule a time to meet with them
Follow up with references and past clients
Let's go over each of the steps.
http://metodosalargarpene.es/ebioer/3489 Step 1: Gather a list of list of potential designers
Look for a designer who is a good communicator and a team player, one who is able to bring out the best of everyone involved, including you, the client.
Keep a running list of potential designers and their contact information
Ask friends, family, or coworkers to suggest people they've worked for on their own projects
Look on Yelp or Houzz and read the client reviews
Check out their online portfolios and keep track any projects that stand out to you
strategien für binäre optionen Step 2: Schedule Time to Meet with Them
Interview at least 3-6  designers
In person is best
Notice their interest in your project
How easy are they to talk to?
What's their availability and does it match your timeline
How do you rate their personality?
How are their skills as a designer?
http://www.ivst-vz.de/?debin=indikator-bin%C3%A4re-optionen Step 3: Follow up with references and past clients
What were their proposed costs versus actual costs?
What was their timeline versus actual timeline?
Any other reason that you would advise me to either hire or not hire this person?
http://emilymarchblog.com/maglayd/2818 Final Thoughts
When it comes to choosing the right designer for your project consider this:
You're entering into a long term relationship with this person
You're renting space in their minds.
That being said, 1) Is this a person you will enjoy spending time with? 2) Do you trust this person to work with you, to listen you and to come up with the best solutions for your needs?
If they pass these two criteria, write them down as your potential teammates.  If you have any doubts on either one of these,  however, cross them off the list and keep on searching.