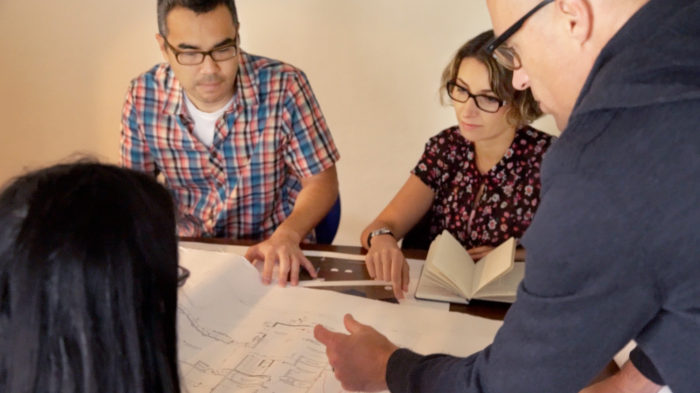 "…the role of the architect, or the designer, is that of a very good, thoughtful host, all of whose energy goes into trying to anticipate the needs of his guests…"  —Charles Eames
At their best, architecture, design, renovations, and remodels are truly collaborative efforts, and ones that leave everyone involved with a deep sense of fulfillment and camaraderie for having co-created the project together.
At their worst, however, these same architecture and design projects can be outright traumatizing, a quagmire of confusion, entrenched egos, missed opportunities, hurt feelings, and wasted time, money, and resources.
What, then, is the single most important factor in determining the outcome of a project, the factor that leaves a client feeling either fulfilled or flustered?
From the Transactional to the Transformative
Though architecture, design, and building can easily be misconstrued as primarily material pursuits, at their heart, they are about improving the lives of the people involved.
And in order to ensure that this is the case, it is not just the final form and function of the structure that's important, but the quality of the interactions and the way in which the journey to get there is orchestrated all along the way.
At the center of everything, then, the most important element is the strength of the relationship between the client and designer, and the way the designer builds that relationship from at the outset and actively cultivates it throughout the project.
Taking famed designer and creative, Charles Eames, quote from above to the next level, not only is it the responsibility of the designer to be a "thoughtful host" who "anticipates the needs of his guests", the perfect designer invests time getting to know the client, asking them question so as to experience the client's life and their hopes and aspirations from the inside out.
In this way, the perfect designer is less like a mindreader but more like a midwife, assisting in birthing a project  that is longing to see the light of day.
Additionally, though the architect or designer may
Not only that, though the architect or designer may bring valuable experience and insights to the table, the real hero at the center of each project are the clients.  that was conceived first and foremost by the client, a project with a life of its own
Again, a healthy designer-client relationship based on mutually respect, honesty, curiosity, and gratitude can skillfully navigate almost any challenge.
The opposite is also true, an ill-formed or unhealthy client-designer relationship may lead to blame, contempt, deception, and one that can take the smallest of challenges and inflate them into seemingly insurmountable obstacles.
But how to find the right ones for you
In short there are three basic steps
Gather a list of list of potential designers
Schedule a time to meet with them
Follow up with past clients
Let's go over each of the steps
Step 1:
Gather a list of list of potential designers
Look for a designer who is a good communicator and a team player, one who is able to bring out the best of everyone involved, including you, the client.
Look on Yelp or Houzz and read the client reviews
Ask friends, family, or coworkers to suggest people they've worked for on their own projects
Interview at least 3-6  designers
Check references
Ability to connect
Availability
Personality
Skills as a designer
Proposed costs versus actual costs
Proposed timeline versus actual timeline
Any other reason that you would advise me either hire or not hire this person?
When it comes to choosing the designer consider this:
You're entering into a long term relationship with this person
You're renting space in their minds.
That being said, 1) Is this a person you will enjoy spending time with? 2) Do you trust this person to come up with the best solutions for your needs?
If you have any doubts on either one of these, keep searching.
Challenges with other architects/designers (And, later, how 3 Lights Designs helps you overcome them)
In the clients' own words:
[the architect] was very set in his vision.
The collaborative part was kind of missing.
It was like either it was his or it was ours, but there was no place where his expertise would inform our ideas or our ideas would be fleshed out by his expertise.
There was no back and forth
I would get intimidated if they come and like, "Oh, I'm the architect, I know this, this is what I do, you hear me." That kind of attitude, which I encountered several times.
I called several architecture firms and they never call me back
just overall attitude, I think very straightforward they tell me, "This is how I do, if you're interested call me back." And they just hang up.
They're the specialists, they know what they're doing, I need their help, so I was looking for someone that could be more communicative.
Just finding somebody to help start the process that's been really the problem because… that's been a big hurdle for us because we're very busy. We don't have a lot of time to research ourselves what would work and what wouldn't work and how to take those first steps.
We've talked to or interviewed other designers or architects and it hasn't fit. We've been taking it slow because we are trying to find the right person to start. (Hetal)
It was the very impersonal experience…It didn't feel like they [the architects/designers] were willing to listen to what our needs were and what our family situation was. They were talking about the bottomline, resale. "This looks good. This is how much it's going to cost." That's the extra stuff.
3 Lights Design Solutions
Qualities to look for in an architect or designer for your project
Good communicators
Collaborative
Warmth
Genuinely interested in you and your project
Good architects and designers recognize that any successful project results from the positive contributions of many people, including the client, the engineers, the contractors, the subcontractors, the city officials, not just the designer.
As such, great designers have a way of communicating that empowers everyone on the project to bring forth innovative ideas and their best work.
According to Jim Collins' book, Good to Great, the highest level of leadership, one that builds a culture of enduring greatness, is a achieved by "a paradoxical blend of personal humility and professional will." In other words, good, or dare I say great, architects and designers also exhibit this paradoxical blend. The are not full of themselves. They are curious and are constantly learning from all those around them. At the same time, they are willing to take the reins when a difficult decision needs to be made or a project needs to be moved forward.
Qualities to avoid in an architect or designer
Uninterested in your ideas
Unwilling to compromise
Impersonal
Set in their own vision and/or design style
Bad architects and designers think that they alone know what's best.
They stand above other involved in the project, make unilateral demands of others during the project, including the clients, and disempower and alienate others working on the project, causing them to perform suboptimally and thwarting their ability to bring forth their own great ideas to the project, all of which lends itself to a challenging journey, hard feelings (which get infused into the structure), and an inferior product.
Pro Tip: Before you rush out to hire just anyone, recognize your entering into a long term relationship with your designer. If you don't like something about the architect or designer you're considering, don't rush ahead. Take time to find the right fit for your project. You don't want justify a situation where either the person or their process is infusing negativity into the bones of your home or office. Don't do it!